On Thursday, Apple has issued a recall on AC Adapters in the following countries;
Australia
Argentina
Brazil
Continental Europe
New Zealand
South Korea
It appears that they are recalling AC Adapters due to a potential risk for
electrical shock
.
Apple has stated that they are aware of 12 separate incidents around the world.
To examine if your wall plug is affected by the recall, check the inside slot where it attaches to the main Apple power adapter. Affected wall plugs will have either four characters, five characters, or no characters printed inside the slot.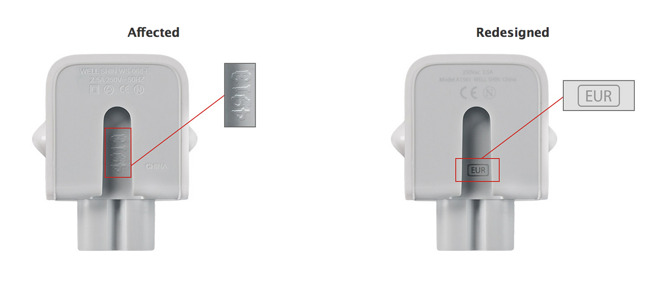 The recall includes many wall plugs shipped with Macs and iOS devices between 2003 and 2015.
Apple states on their website:-
"An affected wall plug adapter has 4 or 5 characters or no characters on the inside slot where it attaches to an Apple power adapter. Redesigned adapters have a 3-letter regional code in the slot (EUR, KOR, AUS, ARG or BRA)."
-
APPLE.COM
Which AC Adapter do you have?
Article Source
IMG Source