On Wednesday, Mark Zuckerberg (Facebook CEO) hinted Apple Pay in a discussion about his company's willingness to partner with payment providers as a route to ad monetization, calling the fledgling service a segment innovator.
Facebook is plotting to beef up Apple Pay with peer-to-peer (P2P) payments functionality in a bid to rival the likes of Facebook and PayPal. The firm reportedly isn't planning to charge these banks a fee to process person-to-person transactions like it does for the customer-to-merchant payments currently enabled by Apple Pay. This means that rather than developing this service as a money-making scheme, it likely will be used as a tool to try to tempt people to buy an iPhone.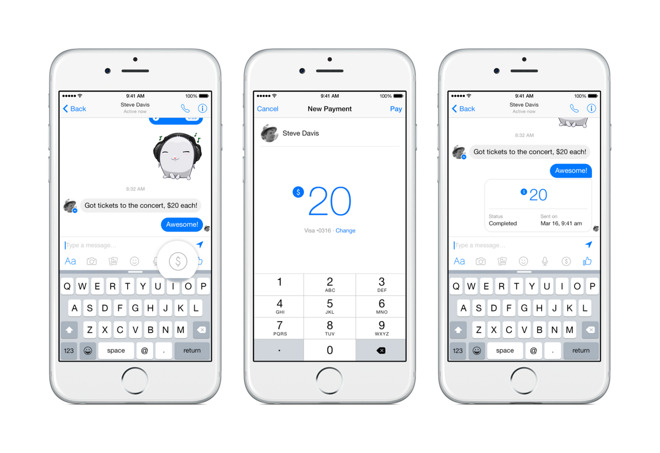 During a quarterly earnings conference call for the last quarter of 2015, Mark Zuckerberg reaffirmed earlier assertions that Facebook is not looking to field a bespoke payments product, nor does he view the company as a "payments business." It is, however, in the advertising business.
"On payments, the basic strategy that we have is to make it — especially in products like Messenger where the business interaction may be a bit more transactional — to take all the friction out of making the transactions that you need,"
- Mark Zuckerberg (CEO, Facebook).
This would involve a smooth payment experience translates into higher traffic, a key quantifiable metric in the business of selling online ad space. Facebook wants a system that makes it easy for users to interact with businesses.
"We'll partner with everyone who does payments," "We look at the stuff that Apple is doing with Apple Pay, for example, as a really neat innovation in the space that takes a lot of friction out of transactions as well."
- Mark Zuckerberg (CEO, Facebook).
Majority of Apple Pay users think of the service as Apple's Touch ID-protected, NFC-powered mobile wallet solution. Many apps rely on Apple Pay as an integrated solution, but exposure gained from a partnership with Facebook, as unlikely as it is to generate major revenue, would be a coup for Apple.
Despite voicing interest in third-party partnerships, Zuckerberg hasn't revealed any potential back-room discussions or any committment to any one payments system during the call.
Original Source