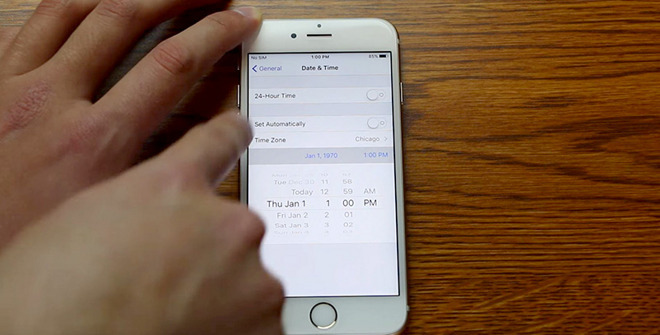 On Monday, Apple posted a
new support document
that acknowledges the existence of a recently exposed date setting bug in iOS. Manually changing the date to May 1970 or earlier can prevent your iOS device from turning on after a restart.
When the bug was originally made public, it was believed that users had to rewind iOS' date all the way back to Jan. 1, 1970.
Apple is promising to fix the bug in a software update, however they have not given any specifics. Apple isn't offering any temporary solutions for salvaging the device.
Any 64-bit hardware running iOS 8 or 9 is believed to be susceptible to the glitch, which will most frequently leave it stuck at the Apple logo, unable to finish booting. Even the full complement of restore options won't work.
Anecdotes have hinted that some devices may spontaneously recover on their own several hours later, but with extremely slow performance if so.
The issue became more serious over the weekend, as online trolls began trying to trick people into resetting their date. In most cases, people falling victim to the glitch will have no choice but to get a replacement device from Apple.
Original Source