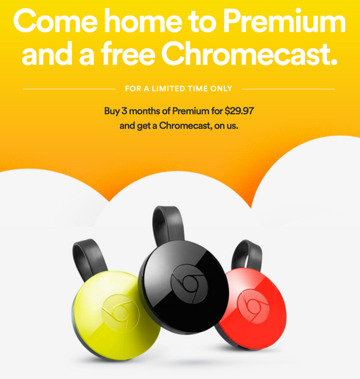 If you have been holding out on Spotify's streaming service well now is the time to get Spotify as it is hoping a free Chromecast dongle will push you in its direction. The company is offering US and UK customers free Chromecasts when you pay for three months of Spotify Premium. The subscription is being offered at a non-discounted rate, so it'll cost $30 USD upfront and $10 USD every month thereafter.
Even if you're totally uninterested in streaming music with Spotify, this represents a small discount on a Chromecast's standard $35 asking price. (If you're ready to pony up for music streaming, you can kill two birds with one stone.) You might have to move quickly if this appeals to you: Spotify's website notes that "supplies are limited," and the promotion will end on February 28th if it doesn't run out of Chromecasts first.
Based in Stockholm, Spotify can arguably be credited with kickstarting the adoption of subscription-based streaming music services around the world. The introduction of Apple Music has put pressure on the firm, however, and emboldened many major artists to demand that Spotify drop its popular free tier.
Being included as a default app on the world's most popular handset has helped Apple Music catch up to the competition, posting impressive growth. Apple's service currently boasts more than 11 million paid subscribers — just 7 months after launch — compared to fewer than 30 million paid members for the 9-year-old Spotify.
What streaming service are you using?
Original Source