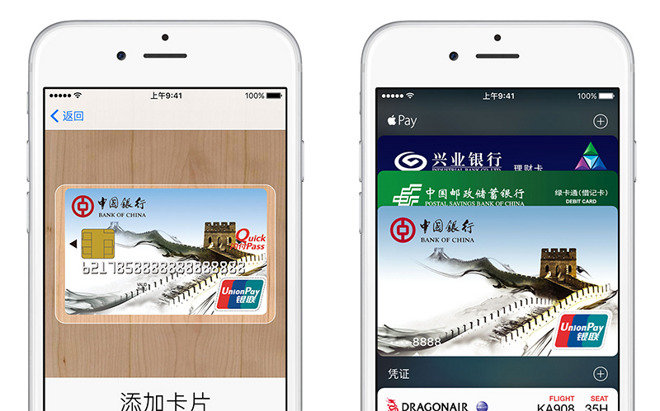 Apple Pay has officially launched in China with support for more than 80% of the country's credit and debit cards.
Just two months after Apple first announced it's intention to bring Apple Pay to China, the mobile transaction service has now been officially launched. Reuters reports:
The U.S. firm has 19 of China's biggest lenders as partners. That means 80 percent of China's credit and debit cards are eligible for Apple Pay, usable at about one-third of all locations that accept those cards, Apple's Bailey said.
Apple partnered with China UnionPay to bring Apple Pay to the country, making it the fifth launch country behind the U.S., UK, Australia and Canada. While Apple Pay has enjoyed rapid growth since its 2014 launch, garnering support from over 1,000 banks in the U.S. and a total of 2 million merchant locations, China has the potential to accelerate that momentum by quite a bit thanks to the size of the market.
In a related announcement, Apple has informed developers that they can now support Apple Pay in their apps for customers in China:
You can now support Apple Pay for your customers in China, providing an easy, secure, and private way for them to pay using their China UnionPay credit and debit cards. Apple Pay lets users buy physical goods and services within your app without having to enter payment or contact information.
Will you be using Apple Pay in China? Let us know!
Original Source