.
Apple has today added four new universal search options to the fourth-generation Apple TV: Watch ABC, Disney X.D, Disney Channel and Disney Jr. This allows users to easily find content like Modern Family and Star Wars Rebels after pressing the Siri button on the Siri Remote. The move brings the total number of sources in universal search to 14.
Disney is the latest Apple TV content provider to take advantage of the set-top's universal search API, as deep links to content from the company's Disney Channel, Disney Jr., Disney X.D and Watch ABC tvOS apps are now accessible via text and Siri voice search.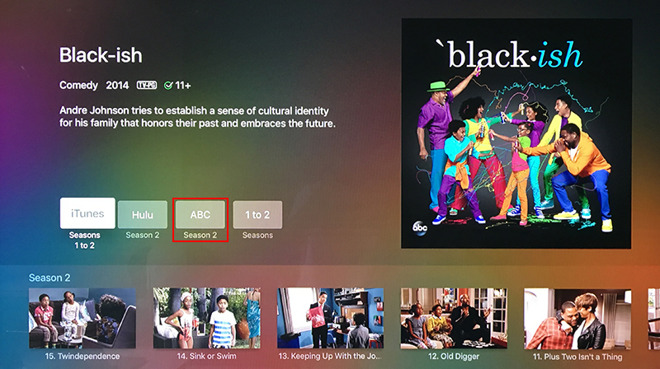 The additions allow fourth-generation Apple TV owners search for ABC hits like "Black-ish" and "Castle," as well as a comprehensive list of Disney shows including "Pickle and Peanut" and "Girl Meets World." Using Siri, users are able to surface viewing options from Disney's complement of tvOS apps alongside other outlets like iTunes and Hulu, even if those apps aren't yet installed on the device.
A tentpole feature of the fourth-generation Apple TV, universal taps Siri to surface shows and other content from a host of compatible providers. In the example above, sitcom "Black-ish" is shown with availability from iTunes, Hulu and ABC.
Apple introduced the handy content search feature when it shipped the fourth-generation Apple TV last year, with initial support limited to iTunes, Netflix, Hulu, Showtime and HBO. Prior to launch, Apple promised to open universal search APIs to developers last October, though providers have been slow to adopt the feature.
In January, PBS and PBS Kids were the first apps to tap into the tvOS universal search API when Apple opened access to developers late last year. Fox, FX Now and Nat Geo provisioned their respective catalogs into universal search earlier this month.