.
Tim Cook, Apple's Chief Executive will be on air this evening in an exclusive interview with ABC's World News Tonight with David Muir, where he will explain why his company refuses to create a "backdoor" to unlock iPhones for the FBI.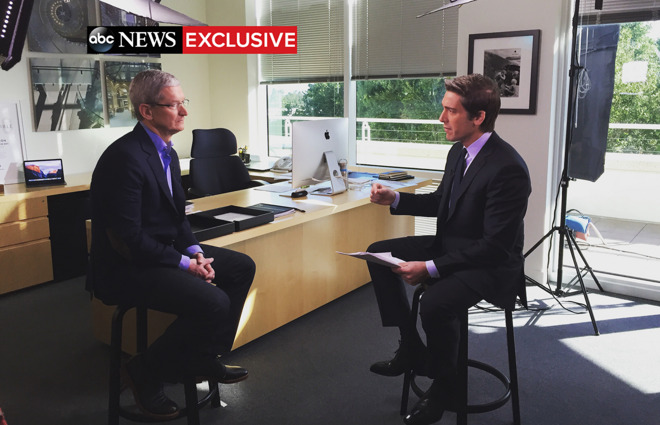 Teasing tonight's interview with Muir, ABC shared a pair of snippets from the discussion. In their conversation, Cook explained that while public safety is important, so too is the protection of people's data.
"This is not something that we would create. This would be bad for America, it would also set a precedent that I believe many people in America would be offended by."
- Tim Cook stated
Muir also asked Cook about how much communication his company had with the U.S. Justice Department before things came to a head in court last week. Cook said he wished there was more dialogue between the government and Apple before the issue became a public fight.
"This filing, we found out about the filing from the press, and I don't think that's the way the railroad should be run. And I don't think something so important to this country should be handled in this way."
- Tim Cook stated
The interview with Apple's CEO will air on World News Tonight with David Muir, which airs from 6:30 to 7 p.m. Eastern. An extended version of the interview will be available on ABCNews.com immediately after the broadcast airs.
Apple was apparently blindsided last week, when a U.S. magistrate judge ordered Apple to comply with FBI requests to help extract data from an iPhone owned by one of the shooters involved in the December terrorist attack in San Bernardino, Calif. The device in question is a passcode-protected iPhone 5c that the FBI seeks to unlock.
Following the judge's order, Apple has taken an extremely proactive and public approach to dealing with the issue. Cook himself issued an open letter to say that the creation of a backdoor tool to access a locked iPhone would set a bad precedent. Security advocates and tech industry insiders have largely sided with Apple, expressing concern over the power the government could wield if it were given backdoor entry into mobile platforms like Apple's iOS.
Government officials are locked out of the handset because, in the midst of their investigation, officials changed the passcode associated with the Apple ID used to back up the iPhone 5c. Had officials not changed that passcode via the Web, the iPhone could have been connected to a known Wi-Fi network and backed up to iCloud, at which point Apple would have been able to access the data in question.