Microsoft on Monday revealed a major shift in its console gaming strategy with the announcement of cross-network Xbox Live gameplay, and with seemingly open support for all comers, the feature could make its way to titles distributed through Apple's iOS, Mac and tvOS App Stores.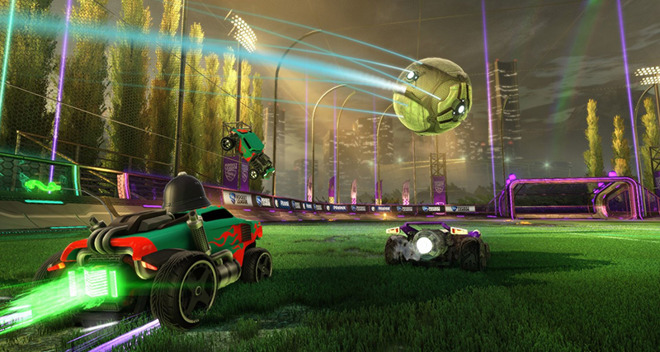 Psyonix's "Rocket League" will be one of the first games to support Xbox One cross-network gameplay.
Source:
Psyonix
Xbox program director Chris Charla made the announcement in tandem with news of native support for cross-platform play between Xbox One and Windows 10. Cross-network support promises Xbox Live users the ability to play online with gamers using a different system, for example Sony's PlayStation 4.
"Of course, it's up to game developers to support this feature, and Xbox Live players will always have the option of choosing to play only with other Xbox Live players," Charla said.
Microsoft confirmed developer Psyonix is building cross-network gameplay into Xbox One and PC versions (via Steam) of "Rocket League," one of the first games to support the new capability. Charla said Microsoft is extending an "open invitation" to participate, though it's up to providers to build out support for their own networks.
While just theory at this point, Microsoft's willingness to make Xbox Live a more open ecosystem could lay the groundwork for titles that support multiplayer action between Xbox One and Apple's iPhone, iPad, Mac or Apple TV. For example, a developer might add cross-network multiplayer to a stripped-down shooter available on Xbox Arcade and the tvOS App Store, or perhaps a two-player puzzler on iOS.
Beyond "Rocket League," developers have not yet expressed interest in Microsoft's new Xbox Live capabilities. Larger game studios are well-positioned to implement cross-network compatibility, and many already have iOS versions of popular franchises, but it is unclear if they are willing to dedicate resources to bring parity between the various platform offerings. Further, Apple relies on game makers to host their own multiplayer networks, meaning the first titles to benefit from cross-network hooks would likely be ports from an established studio.
Valve's Steam marketplace is another option for Mac, though only certain games are Mac-compatible. "Rocket League," unfortunately, is a Windows-only title.
At this point it's too early to say whether or not developers will curry to Microsoft's newfound openness, but gamers have been waiting for a cross-network solution since Xbox and PlayStation ushered in console-based online gaming over a decade ago. The advent of multiplayer mobile games, the proliferation of which comes in large thanks to Apple's iOS App Store, might serve to underscore the need for universal multiplayer networks.
Yes we are an Apple forum but we want to know, what do you own? Xbox or PlayStation?
[via
PCMAG
]