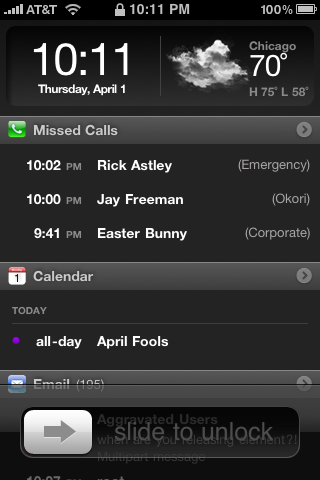 Hmm...pay close attention to this screenshot... pretty cool huh?
Even has missed calls.
We have a new Lockscreen App on the streets tonight. The highly anticipated Lockscreen App, Element, has now been released. Element, designed by
Teehan+Lax
and implemented by
Elias Limneos
, provides access to all of your most needed information right from your iPhone's lock screen. Whether it be a recently missed call or a new e-mail message, you will no longer have to drill down deep into the device's UI just to see what's new.
You should look at the screenshot again. Its so awesome! .....
While I haven't had a chance to test drive this personally yet.....
, but I would imagine that its going to have some work to do yet, to compete with other apps such as David Ashman's LockInfo. But as time goes by, I don't doubt to see many extensions coming to this. The framework should set up a fairly simple way for developers to extend it's uses.... in the near future.... sometime...
Did you look at it again? I swear you have to look again, its so cool....
Element has been implemented entirely in WebCycript, and installs to your lock screen as a Cydget, making it fully compatible with all existing Apple lock screen plugins, as well as most other third-party extensions.
Grab it live on Cydia..... or try to find it.. mwhaha
Twitter / Jay Freeman (saurik): Element, designed by @gtee ...
If you havent noticed already, the screenshots indicate this is an april fools joke April fools joke from @saurik, Although it appears you actually CAN download this... although the short description says "A Lame attempt at an April Fools Joke"