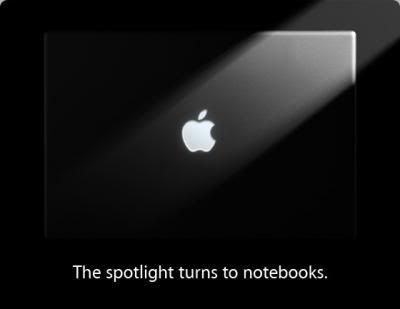 Apple just sent out an invite to a media event being held October 14th, at 10 AM PST at their headquarters in Cupertino…The only words on the invite, "The spotlight turns to notebooks." Vague words, but most definitely indicative of some new and exciting change for MacBooks!
Recently, new photos have leaked that supposedly show possible new brick casing. According to experts familiar with up and coming MacBook designs, an earlier photo of what has been labeled as a MacBook Pro with casing carved out of a single block of Aluminum using a new and revolutionary manufacturing process, does not whatsoever indicate brick casing.
However, three new photos released by Apple.Pro show clearer shots of what may be brick casing. These photos have not yet been authenticated by experts, but they do provide a clearer picture of what looks like may be a MacBook carved out of a single piece of aluminum. But really, who knows? Here are the new photos:

Regardless if these leaked photos show whether or not Apple is going to release MacBook Pros with revolutionary brick casing, experts say the photos that have so far been authenticated suggest that the new MacBook Pros will incorporate elements already in use in the MacBook Air, such as the nicer keyboard that contains individual key containers carved out of an Aluminum sheet. However, this is not new as it has been in use with the manufacturing of MacBook Airs and the 13 inch Plastic MacBooks for a quite some time now.
I do not know what it is Apple has in store, of course I am hoping for some sort of awesome revolutionary brick casing, but don't have my hopes held too high. I am expecting more MacBook Air components intertwined into the new MacBooks though…either way I will be buying one of these new MacBook Pros as I have been holding out for October 14th for quite sometime, and will be finally getting rid of my incredibly archaic iBook G4! So I am excited no matter what Apple reveals.
Source: AppleInsider.com and Macrumors.com