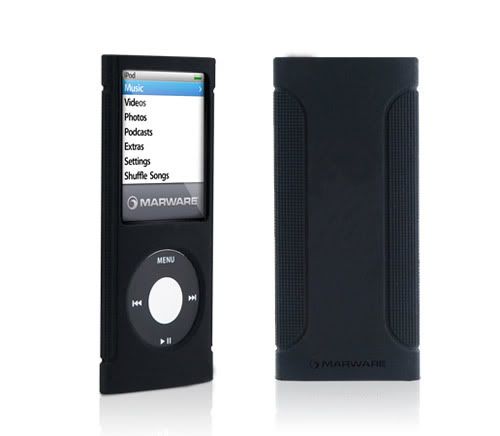 There have been three hip new cases revealed by Marware for the iPod Touch 2G and Nano 4G. Here is a breakdown of the cases;
- The Glide (For the iPod Touch 2G): This is a snug case made with Nappa leather on the outside and a micro fiber interior. I have owned these types of cases before and have generally disliked them, because you cant use the iPod while it's in the case and the iPods are so hard to pull out of the case. However, Marware has included a recessed pull – tab that supposedly makes it super easy to pull the iPod out. The case will fit both the original and second-generation iPod Touch. The case does have a nice look and comes in black, blue, purple and pink. It sells for about $25.
- The Sport Grip (For the Nano 4G): This case is has an impressive slick look and is composed of silicone. The case covers and protects the whole iPod while still allowing access to ports and controls. As its name suggests the sides of this case are textured for a stronger grip while engaging in sports or exercising. Interestingly, the case is also coated with an anti – microbial compound. It comes in black, white, and frosted colors. And for only $15 this is one I am probably just going to have to buy.
- Sportsuit Convertible (Touch 2G and Nano 4G models): This case is versatile and can be worn in three different ways; as an armband, a sleeve protector for when you carry the iPod in your pocket, or as a clip. The Nano case is made out of neoprene and the Touch is made out of something called "Orca – Skin," but I cant find out what exactly that is anywhere. You can only get this model through pre-order right now and the Touch model costs about $35 and the Nano model about $30.
All in all I would say that Marware has produced a pretty nice line of iPod cases.
Source: ipodnn.com