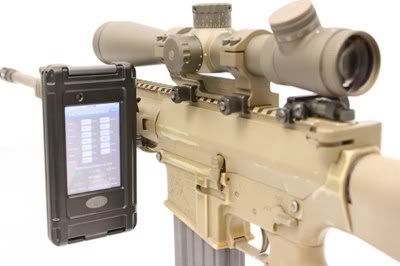 OK I admit it, my first thought when I saw this was…cool!
There are some good apps for shooting sports but users say that the new Knights Armaments M110 iPod Touch mount and accompanying ballistics software is simply wicked.
The gun in the picture is the M110, the 7.62×51mm semi-automatic sniper system, which won the Army's competition to replace the M24 bolt action sniper system. Knights Armaments has created a mounting system for the iPod Touch that attaches to a side mounted picatinny rail of the sniper. The mount is also protected by a protective case.
Then Runaway technologies built Bullet Flight, an external ballistics calculator for the iPod Touch and iPhone. This is your standard ballistics app: allows users to set firearm and ammunition profiles, then use this profile and enter info such as distance, wind direction, elevation and temperature.
The app is costly though, $11.99, now in the app store.
My second thought when I saw this was that Apple is going to take out the Palm Pre by one way or another!
Source:
iPod Touch mounted on M110 Sniper Rifle | The Firearm Blog