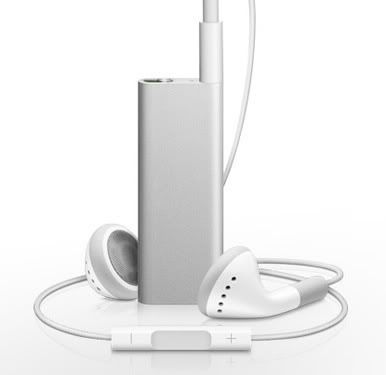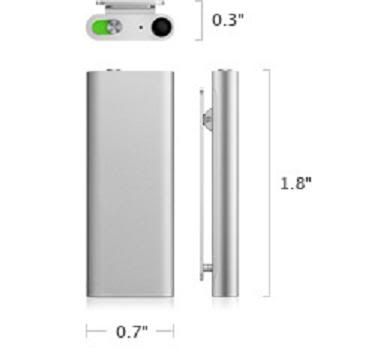 Apple has introduced the new iPod shuffle which is half the size of the pervious model....smaller than a AA battery! One new feature added is VoiceOver,2 which gives it the ability to speak to you in 14 different languages including English, Czech, Dutch, French, German, Greek, Italian, Japanese, Mandarin Chinese, Polish, Portuguese, Spanish, Swedish and Turkish. It can tell you the artist name, song title and playlist names. The price is still $79 but now you get 4GB worth of storage!! You might be asking yourself with a smaller size does this mean half the battery life? No this is not the case as the battery still holds 10 hours of playback time. The new shuffle comes in silver and charcoal. It is on sale today so go out and grab one!

<object width="425" height="344"><param name="movie" value="http://www.youtube.com/v/c63_ZEH6IMo&hl=en&fs=1"></param><param name="allowFullScreen" value="true"></param><param name="allowscriptaccess" value="always"></param><embed src="http://www.youtube.com/v/c63_ZEH6IMo&hl=en&fs=1" type="application/x-shockwave-flash" allowscriptaccess="always" allowfullscreen="true" width="425" height="344"></embed></object>

Edit: The iPod is now controlled through the in line module of the earbuds as shown in the picture. The +/- buttons are for volume and the middle section controls track selection and pause/play depending how many times you "click it". This could be a huge draw back for people wanting to use aftermarket headphones with this device as your only other option is the Apple In-Ear Headphones with remote/Mic ($79).