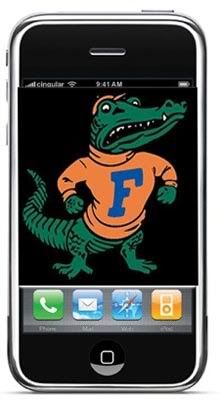 Important notice!

As of 6/26/09 all incoming Fall 2009 PharmD students are required to have an iPod touch. An iPhone will also meet this requirement.
Incoming Fall 2009 students are not required to purchase clickers. These students will use the iPod Touch with special software instead of 'clicker' devices. Details are posted in the Computer & Technology Orientation Site.
Enrolled in UF's College of Pharmacy? There's an app for that.
This year, all incoming PharmD students will be required to have an iPod touch or an iPhone, making UF the second school to implement the requirement, following the University of Missouri's May decision, according to AppleInsider.com.
"These are the instruments at the forefront that are developing applications for medical uses by the hundreds," said College of Pharmacy Dean William Riffee, an iPhone user. "We want our students to become adept at using these mobile devices early on because we see this as the future in pharmacy practice."
Pharmacists in the future will rely on these devices to access patient medical records and verify prescriptions, he said. A professor in the department of pharmacotherapy, said he believes the new technology will help in the classroom.
Students will use iPod touches or iPhones to participate in interactive quizzes during class and download free applications that will help first-year pharmacy students learn the names of various drugs, Munyer said.
The college is developing a simulated patient that students will be introduced to at the beginning of class. Students will receive updates and messages about the status of the patient and its therapy throughout the semester.