Apple released the new 1.0.2 update today. It's not yet known what impact this will have on existing mods...but it is a full update, with a huge 91.2mb download for the full restore. I will post any learnings...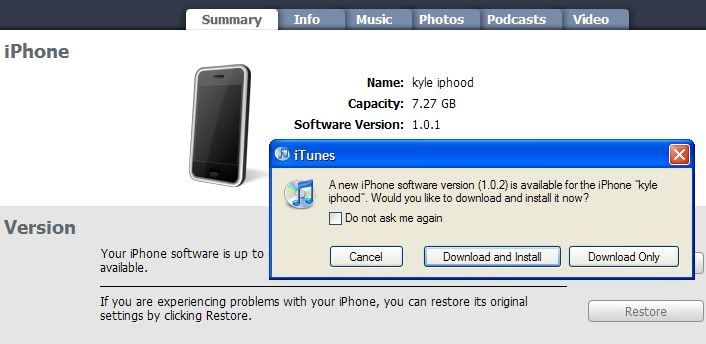 The update requires agreement to a new Terms of Service (TOS) as well as a brief description of what it does. I will upload the TOS word doc to MMi in case anyone is interested in the legal ramifications of the upgrade...
---------------------------------------------
iPhone Software
Version 1.0.2
• Bug fixes
This version of the software includes bug fixes and supersedes all previous versions.
For feature descriptions and complete instructions, see the users guide for your iPhone at:
<http://www.apple.com/support/manuals/iphone/>
For more information about iPhone, go to:
<http://www.apple.com/iphone/>
To troubleshoot your iPhone, or to view additional support information go to:
<http://www.apple.com/support/iphone>
-----------------------------------------------------------------