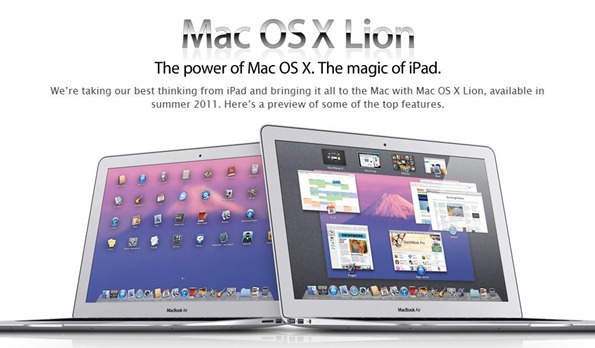 Apple didnít give a specific date for the release of OS X Lion at WWDC in June, simply stating that the newest version of Mac OS would arrive on the Mac App Store some time in July, now on this last day of June, certain outlets are suggesting that Apple will wait until the middle of the month to release the OS upgrade, and will do so alongside new MacBook Air models.
Apple Ďní Apps
has stated theyíve learned that Apple will release Lion to the masses on July 19th, a Tuesday, the typical product release date for Apple products. It seems right that Apple take its time in releasing Lion, especially as the company continues to take criticism for what some have called a
half-baked
upgrade to Final Cut Pro, which does not seem fit for professional videographers. Also mentioned are MacBook Airs, which, like the many, many reports before it, mention a speed bump, Intel SandyBridge Processors, and the addition of Thunderbolt.
The source also adds that if something isnít quite right with the product, Apple will delay the release of OS X Lion and the MacBook Airs. It is also speculated that the new MacBook Airs are ready for launch already, but Apple is waiting until Lion is ready for the general public so that they can release hardware right alongside the software. Finally, they state that Lion will release itís Golden Master Release Candidate on or around July 4th. Weíll keep you posted on the ongoing release speculation.